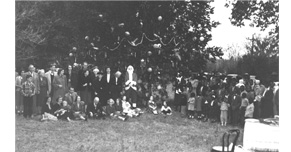 Woodlands families reunion, 1951
Shared History honors the centuries-old connection between the black and white families of Woodlands Plantation whose relationship has survived slavery and its aftermath.  We celebrate the continuing reconstruction of our connection through acknowledging  and accepting the past by maintaining contact through our website and emails, gatherings and reunions, and through updates about the Woodlands Families Scholarship Fund.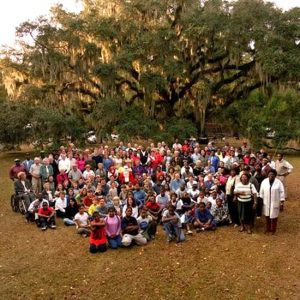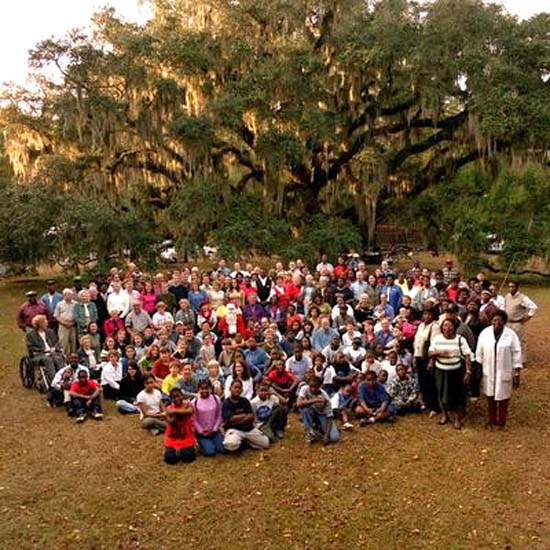 Woodlands families 50th Anniversary Gathering
Midway, SC | November 24, 2001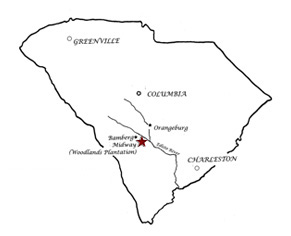 Listed below are some of the surnames of our contemporary families who can trace a connection to Woodlands Plantation through ancestors who have been identified through oral history and document research as living on the property at the time of the Civil War.
Please note that within the text of many of the families' linked pages above, there are references to information provided by author and historian Mary C. Simms Oliphant, a granddaughter of William Gilmore Simms.  In her work on The Letters of William Gilmore Simms, she collected information about some of the African American families from Llewellyn "Mudd" Manigault, the granddaughter of Jim Rumph, which she used in writing sections of the six volumes.  Mrs. Manigault was considered the historian of the plantation families and her community.
Pilgrim Baptist Church
The historic Pilgrim Baptist Church was founded in the Midway community of Bamberg, South Carolina in 1883 by Deacon Bill Simpson. It originated as a bush arbor by the population of African Americans who were enslaved on the plantations in the surrounding community including Woodlands. Many of its current members are descended from these families and are featured in Shared History. In 1926, a board-structured building was built. In 1958, the third church was built. The cornerstone reveals the following officers: Deacon Frank Richvine, Chairman, Deacon James Rumph, Deacon Dave Thomas, Deacon Willie Dickerson, Deacon John Varn, Deacon Willie Glover, and honorary member, Tom Toomer. Wilbert Davis is currently Pastor. Pilgrim Baptist Church has served as a nexus for community building throughout its existence.