In 2001, descendants of William Gilmore Simms created the Woodlands Families Scholarship Fund to provide assistance for college tuition to the descendants of the enslaved people of Woodlands Plantation.
The Woodlands Families Scholarship Fund was established by Alester (1918–2007) and Mary Simms (1918–2013) Furman and Felicia Furman in 2001. Mrs. Furman was a descendant of William Gilmore Simms, the last slave owner at Woodlands Plantation. Alester Furman was descended from a long line of Baptist ministers in South Carolina, who were also slave owners. His 4th great grandfather, James C. Furman, founded Furman University in Greenville, SC. Felicia made a contribution of an inheritance provided to her from her Furman grandfather in the form of Multimedia stock.The company was being sold to Gannett Corporation.The stock had increased significantly in value since her grandfather had bought it. Taxes would have taken more than half of the sale and Felicia saw an opportunity to directly impact the people she had begun working with at Woodlands from monies associated with her family's connection to slavery.
One of most unfair practices of the slave system was that it was illegal for a slave to learn to read and write. From her study of her ancestor's letters, William Gilmore Simms, she determined that he had taught at least one of his slaves, Isaac Nimmons, to read and write. Nimmons was the coachman of if the plantation and Mr. Simms's "body servant" and Simms perhaps felt a personal relationship with him. More so, it seems that Simms had an ulterior purpose. He was a writer and had little interest in doing the business of the plantation. It is likely that Simms taught Nimmons to read and write to diminish some of the burden of the plantation business. Despite complaints from neighbors, Simms allowed Nimmons to ride the train by himself to Charleston to conduct the business of the plantation. It was obvious that Nimmons had innate abilities and the skills he learned from Simms helped him after slavery as he bought land in the community and sent all his children to college. Many of his family's personal documents are preserved at the South Caroliniana Library in Columbia, South Carolina.
These scholarships require that applicants be descended from one of the families  who were enslaved at Woodlands. The Families of Woodlands section  in this website provides an overview of life at Woodlands during slavery. It includes facsimiles of records of people who were bought and sold on the plantation, records of births, those who received shoes and blankets, who were there when federal troops oversaw the contentious relationship between blacks and whites in Bamberg after emancipation, how people were treated during this time and what happened to Woodlands Plantation after the Civil War.
Each family has a chapter in the Woodlands Families section of the website with some historical and genealogical material that will link you to your family at Woodlands. You will have to show how you are related to one or more of these people to be eligible for the scholarship. We recommend you have a chart that keeps everyone in order like this.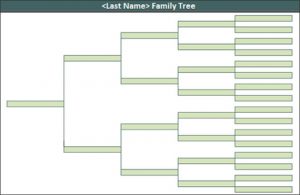 The best way to acquire the information if it is not clear in the website is from the elder members of your family. Recording a conversation with your grandmother or great aunt on your phone is a great first step. You'll be grateful you have the recording the older you become—and after older family members are gone and you can't ask them questions about your family anymore. In addition to the genealogy, this would also be a great time to record stories of important events in your family and ones that link you to the past.
Central Carolina Community Foundation is a nonprofit organization that links charitable people and businesses with areas of need in our community. They were founded in September 1984 by business leaders who wanted to establish a permanent endowment that would enhance the lives of citizens in the Midlands area of South Carolina. Their mission is to promote, facilitate, and increase philanthropy to create a sustainable impact within our community through responsible giving.
For assistance, you are welcome to reach out to me (Felicia Furman) at [email protected].
For information about the scholarship and its requirements contact:
Central Carolina Community Foundation
2711 Middleburg Drive, Suite 213
Columbia, SC 29204
803.254.5601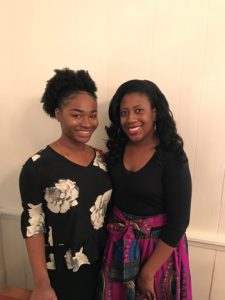 Ms. Markayla Busby and Deana Gilmore are both scholarship recipients They are both members of the Pilgrim Baptist Church in Midway, SC.