JUALYNNE E. DODSON
---
Professor of Sociology, African American & African Graduate Studies at Michigan State University and Director of the African Atlantic Research Team (AART).
BENJAMIN BERNARD DUNLAP
---
President of Wofford College in Spartanburg, South Carolina, where he serves as the Chapman Professor of Humanitites.
WALTER B. EDGAR
---
Director of the Institute for Southern Studies, the Claude Henry Neuffer Professor of Southern Studies at the University of South Carolina and the author of South Carolina, A History and the South Carolina Encyclopedia.
KAREN E. FIELDS
---
Independent scholar, writer, and filmmaker and founding director of the Frederick Douglass Institute for African and African American Studies at the University of Rochester.
JOHN C. GUILDS
---
Professor Emeritus, University of Arkansas where he was the  Distinguished Professor of Humanitites in the Department of English.  He is the biographer of William Gilmore Simms and author of Simms:  A Literary Life.
CHARLES JOYNER
---
The Burroughs Distinguished Professor of Southern History and Culture at Coastal Carolina University and author of the seminal book, Down by the Riverside:  A South Carolina Slave Community and Shared Traditions:  Southern History and Folk Culture.
FRANK MARTIN
---
Writer, cultural critic, and art historian who teaches the history of art at South Carolina State University in Orangeburg and at several University of South Carolina satellite campuses.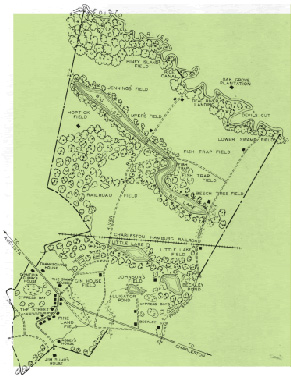 Woodlands Plantation, 1952
The plantation originally contained over 4,000 acres; it now comprises about 2,000 acres and is owned by descendants of William Gilmore Simms.
Charles Orr, Rhonda Kearse, & Felicia Furman
(from left to right)